Switches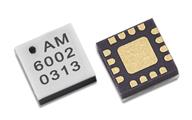 Atlanta Micro's switch products are designed for low insertion loss, flat frequency response and large signal handling capabilities across a broad frequency range. The products operate from standard power supply voltages and provide simple control interfaces.
To request a quote for one or more parts, click the "Add to Quote" link in the table for the part of interest.
To submit the quote request, click the "Request Quote" tab in the upper right of the page and complete and submit the form.
| Part Number | Function | Freq. (GHz) | Insertion Loss (dB) | Isolation (dB) | IIP3 (dBm) | Supply (+V) | Supply (mA) | Control | Package | Add to Quote |
| --- | --- | --- | --- | --- | --- | --- | --- | --- | --- | --- |
| AM6002A | SPDT, Reflective | DC - 14 | 2 | 30 | 36 | 3.3 to 5.0 | 0.5 | 3.0 to 5.0 | 3mm QFN | Add To Quote |
| AM6011 | SP8T, Reflective | DC - 10 | 1 | 25 | 40 | 3.3 to 5.0 | 9 | 3.0 to 5.0 | 4mm QFN | Add To Quote |
| AM6012 | SPDT, Reflective | DC - 18 | 1 | 30 | 45 | 3.3 to 5.0 | 1 | 3.0 to 5.0 | 3mm QFN | Add To Quote |
| AM6013 | SP4T, Reflective | DC - 20 | 1.3 | 30 | 42 | 3.3 to 5.0 | 7 | 3.0 to 5.0 | 3mm QFN | Add To Quote |
| AM6015 | SP6T, Reflective | DC - 18 | 2 | 36 | 40 | 3.3 to 5.0 | 9 | 3.0 to 5.0 | 4mm QFN | Add To Quote |
| AM6017 | SP4T, Reflective | DC - 26.5 | 2 | 30 | 41 | 3.3 to 5.0 | 8 | 3.0 to 5.0 | 4mm QFN | Add To Quote |
| AM6029 | SP4T, Reflective | DC - 18 | 1.5 | 35 | 48 | 3.3 to 5.0 | 7 | 3.0 to 5.0 | 3mm QFN | Add To Quote |
| AM6031 | SPDT, Absorptive | DC - 20 | 1.5 | 43 | 45 | 3.3 to 5.0 | 1 | 3.0 to 5.0 | 3mm QFN | Add To Quote |