Filters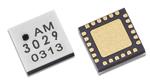 Atlanta Micro's filter bank product line consists of digitally tunable and switched sub-octave filters covering 2 MHz to 18 GHz. The digitally tunable filters are available in 4mm QFN lowpass and highpass configurations that can be used stand alone or combined together to form flexible, discretely stepped bandpass filters requiring no calibration or large analog voltages. The switched sub-octave filter banks offer features such as a bypassable amplifier and provide an excellent front-end/ back-end for a broadband receiver, transmitter or transceiver requiring high dynamic range and small size, weight and power consumption.
To request a quote for one or more parts, click the "Add to Quote" link in the table for the part of interest.
To submit the quote request, click the "Request Quote" tab in the upper right of the page and complete and submit the form.
Bandpass Filters
| Part Number | Function | Cutoff Freq Low (MHz) | Cutoff Freq High (MHz) | Bandwidth Low (MHz) | Bandwidth High (MHz) | Insertion Loss (dB) | Typical Rejection (dB) | Package | Add to Quote |
| --- | --- | --- | --- | --- | --- | --- | --- | --- | --- |
| AM3023B | Switched Sub-octave Filter Bank w/ Bypassable Amplifier | 100 | 6000 | 60 | 2200 | 7 | 40 | 20.5 x 20.5 x 3.30mm | Add To Quote |
| AM3024B | Switched Sub-octave Filter Bank w/ Bypassable Amplifier | 100 | 6000 | 60 | 2200 | 10 | 70 | 20.5 x 19.0 x 4.0mm | Add To Quote |
| AM3025A | Switched Sub-octave Filter Bank | 400 | 6000 | 230 | 2200 | 6 | 40 | 9mm QFN | Add To Quote |
| AM3043 | Digitally Tunable Bandpass | 6500 | 17000 | 0 | 2000 | 6 | 35 | 3mm QFN | Add To Quote |
| AM3045 | Digitally Tunable Bandpass | 3000 | 6000 | 0 | 1000 | 1 | 40 | 4mm QFN | Add To Quote |
| AM3060 | Digitally Tunable Bandpass | 320 | 6500 | 180 | 4000 | 4 | 60 | 12.5mm CQFN | Add To Quote |
| AM3063 | Digitally Tunable Filter Bank | 6000 | 18000 | Adjustable | Adjustable | 4 | 40 | 6mm QFN | Add To Quote |
| AM3064 | Digitally Tunable Filter Bank | 1000 | 6500 | Adjustable | Adjustable | 3 | 50 | 6mm QFN | Add To Quote |
| AM3065 | Digitally Tunable Bandpass | 6000 | 12000 | Adjustable | Adjustable | 4 | 40 | 4x6mm QFN | Add To Quote |
| AM3066 | Digitally Tunable Filter Bank | 12000 | 26500 | Adjustable | Adjustable | 5 | 40 | 6mm QFN | Add To Quote |
| AM3089 | Analog Tunable Switched Filter Bank | 2000 | 18000 | Analog Adjustable | Analog Adjustable | 8 | 40 | 10mm QFN | Add To Quote |
| AM3090 | Digitally Tunable Bandpass | 100 | 450 | Adjustable | Adjustable | 3 | 40 | 4x8mm QFN | Add To Quote |
| AM3102 | Digitally Tunable Bandpass | 330 | 1200 | Adjustable | Adjustable | 2.5 | 40 | 4x6mm QFN | Add To Quote |
| AM3103 | Digitally Tunable Bandpass | 1000 | 3000 | Adjustable | Adjustable | 3 | 40 | 4x6mm QFN | Add To Quote |
| AM3104 | Digitally Tunable Bandpass | 2500 | 6500 | Adjustable | Adjustable | 2.5 | 40 | 4x6mm QFN | Add To Quote |
| AM3134 | Tunable Filter Bank | 2000 | 4500 | Analog Adjustable | Analog Adjustable | 9 | 50 | 5mm QFN | Add To Quote |
| AM3135 | Tunable Filter Bank | 3500 | 9000 | Analog Adjustable | Analog Adjustable | 9 | 50 | 5mm QFN | Add To Quote |
| AM3136 | Tunable Filter Bank | 8000 | 19000 | Analog Adjustable | Analog Adjustable | 9 | 50 | 5mm QFN | Add To Quote |