Amplifiers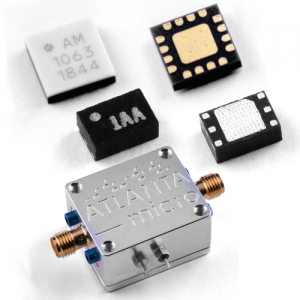 Atlanta Micro offers best-in-class amplifier products designed for high dynamic range, gain flatness, low noise figure and temperature stability. With broad frequency coverage and integrated components and functions these amplifiers are designed to simplify system design and reduce system size, weight and power consumption.
Additionally, Atlanta Micro now offers select amplifiers in an RF shielded module made of aluminum with field-replaceable SMA connectors and mounting holes. The module version of these parts are designated with a "-M" at the end (for example AM1064-M). The amplifier module is 1.2″ x 1″ x 0.6″ with SMA input and output and a feedthrough capacitor to an integrated bias tee that powers the device. These modules are ideal for lab use and/or prototype systems.
*Components in picture not to scale with each other.
To add to quote click the product of interest, select configuration options, then click the 'Add to Quote' button.
To submit the quote request, click the "Request Quote" tab in the upper right of the page and complete and submit the form.
Amplifiers New
| Part Number | Function | Freq. (GHz) Low | Freq. (GHz) High | Gain (dB) | NF (dB) | OIP3 (dBm) | P1dB (dBm) | Supply (+V) | Supply (mA) | Package | Module |
| --- | --- | --- | --- | --- | --- | --- | --- | --- | --- | --- | --- |
| AM1018A | Gain Block | 0.02 | 6 | 13 | 3.0 | 35 | 18 | 3.3 | 85 | 3mm QFN | Yes |
| AM1018B | Gain Block | 0.02 | 6 | 13 | 3.0 | 35 | 22 | 5.0 | 120 | 3mm QFN | Yes |
| AM1053 | Driver Amplifier | 5 | 20 | 20 | 2.5 | 25 | 16 | 3.3 | 93 | 3mm QFN | Yes |
| AM1063-1 | Gain Block | 0.0 | 10 | 15 | 2.5 | 30 | 18 | 5.0 | 74 | 3mm QFN | Yes |
| AM1064-1 | Gain Block | 0.0 | 8 | 21 | 2.0 | 32 | 18 | 5.0 | 73 | 3mm QFN | Yes |
| AM1065 | Bypassable Gain Block | 0.0 | 8 | 20 | 2.5 | 32 | 17 | 5.0 | 72 | 4mm QFN | Yes |
| AM1067 | Bypassable Gain Block | 5 | 20 | 20 | 3.5 | 27 | 14 | 3.3 | 96 | 4mm QFN | No |
| AM1070 | Broadband Gain Block | 0.0 | 18 | 12 | 3.0 | 27 | 15 | 3.3 | 60 | 3mm QFN | Yes |
| AM1071 | Broadband Gain Block | 0.0 | 18 | 12 | 3.5 | 30 | 16 | 5.0 | 70 | 3mm QFN | Yes |
| AM1073 | Bi-Directional Bypassable Gain Block | 0.0 | 8 | 15 | 2.5 | 27 | 14 | 3.3 | 55 | 4mm QFN | No |
| AM1063-2 | Miniature Gain Block | 0.0 | 10 | 15 | 2.5 | 30 | 18 | 5.0 | 74 | 1.3mm x 2mm DFN | No |
| AM1064-2 | Miniature Gain Block | 0.0 | 8 | 20 | 2.0 | 32 | 18 | 5.0 | 73 | 1.3mm x 2mm DFN | No |
| AM1016B | Gain Block | 0.02 | 6 | 14 | 2.3 | 33 | 17 | 3.3 | 53 | 3mm QFN | Yes |
| AM1018C | Gain Block | 0.02 | 6 | 13 | 2.7 | 36 | 21 | 5.0 | 96 | 3mm QFN | Yes |
| AM1031C | Gain Block | 0.02 | 8 | 13 | 2.2 | 32 | 17 | 3.3 | 56 | 3mm QFN | Yes |
| AM1077 | Bypassable Gain Block w/ Off State | 5 | 20 | 20 | 4.0 | 25 | 14 | 3.3 | 85 | 4mm QFN | No |
| AM1025B | Gain Block | 0.02 | 3 | 13 | 3.8 | 40 | 26 | 8.0 | 156 | 3mm QFN | Yes |
| AM1081 | Bypassable Gain Block | 0.0 | 8 | 17 | 2.5 | 35 | 20 | 5.0 | 83 | 4mm QFN | Yes |
| AM1163-1 | Low Noise Amplifier | 0.0 | 10 | 15 | 2.0 | 30 | 20 | 5.0 | 80 | 3mm QFN | Yes |
| AM1163-2 | Miniature Low Noise Amplifier | 0.0 | 10 | 15 | 2.0 | 30 | 20 | 5.0 | 80 | 1.3mm x 2mm DFN | No |
| AM1164-1 | Low Noise Amplifier | 0.0 | 8 | 21 | 1.5 | 33 | 20 | 5.0 | 85 | 3mm QFN | Yes |
| AM1164-2 | Miniature Low Noise Amplifier | 0.0 | 8 | 21 | 1.5 | 33 | 20 | 5.0 | 85 | 1.3mm x 2mm DFN | No |
| AM1085-1 | Gain Block | 0.0 | 6 | 16 | 2.5 | 35 | 20 | 5.0 | 79 | 3mm QFN | Yes |
| AM1085-2 | Miniature Gain Block | 0.0 | 6 | 16 | 2.5 | 35 | 20 | 5.0 | 79 | 1.3mm x 2mm DFN | No |
| AM1016A | Gain Block | 0.02 | 6 | 15 | 2.5 | 30 | 18 | 3.3 | 55 | 3mm QFN | Yes |
| AM1090-1 | Gain Block | 0.0 | 6 | 20 | 2.1 | 35 | 25 | 8.0 | 200 | 3mm QFN | Yes |
| AM1090-2 | Miniature Gain Block | 0.0 | 6 | 20 | 2.1 | 35 | 25 | 8.0 | 200 | 1.3mm x 2mm DFN | No |
| AM1082 | Driver Amplifier | 5 | 17 | 22 | 3.0 | 31 | 20 | 5.0 | 126 | 3mm QFN | Yes |
| AM1084-2 | Miniature Gain Block | 0.0 | 6 | 16 | 2.3 | 37 | 21 | 5.0 | 112 | 1.3mm x 2mm DFN | No |
| AM1084-1 | Gain Block | 0.0 | 6 | 16 | 2.3 | 37 | 21 | 5.0 | 112 | 3mm QFN | Yes |
| AM1102 | Broadband Low Noise Amplifier | 0.0 | 22 | 14 | 2.0 | 26 | 15 | 3.3 | 48 | 3mm QFN | Yes |
| AM1101 | Broadband Bypassable Gain Block | 2 | 26 | 8 | 3.5 | 22 | 10 | 3.3 | 31 | 3mm QFN | No |
| AM1071-2 | Broadband Gain Block | 0.0 | 18 | 12 | 3.5 | 30 | 16 | 5.0 | 70 | 1.3mm x 2mm DFN | No |
| AM1070-2 | Broadband Gain Block | 0.0 | 18 | 12 | 3.0 | 27 | 15 | 3.3 | 60 | 1.3mm x 2mm DFN | No |
| AM1110 | Broadband Gain Equalizing Amplifier | 2 | 18 | 14 | 4.0 | 27 | 17 | 3.3 | 59 | 3mm QFN | No |
| AM1081-2 | Bypassable Gain Block | 0.0 | 8 | 17 | 2.5 | 35 | 20 | 5.0 | 81 | 3mm QFN | Yes |
| AM1065-2 | Bypassable | 0.0 | 8 | 20 | 2.5 | 32 | 17 | 5.0 | 72 | 3mm QFN | Yes |
| | Function | Freq. (GHz) Low | Freq. (GHz) High | Gain (dB) | NF (dB) | OIP3 (dBm) | P1dB (dBm) | Supply (+V) | Supply (mA) | Package | Module |