Amplifiers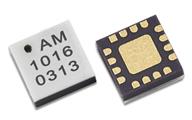 Atlanta Micro offers best-in-class amplifier products designed for high dynamic range, gain flatness, low noise figure and temperature stability. With broad frequency coverage and integrated components and functions these amplifiers are designed to simplify system design and reduce system size, weight and power consumption.
To request a quote for one or more parts, click the "Add to Quote" link in the table for the part of interest.
To submit the quote request, click the "Request Quote" tab in the upper right of the page and complete and submit the form.